Winter might not be everyone's cup of tea, but for those who seek their thrills on fresh powder, the cold-weather months are when you get your kicks. Now that ski season is in full swing, we thought we'd round up a few star locales where you'll definitely want to take your skis, along with some cosy Luca Faloni cashmere to keep the chill at bay.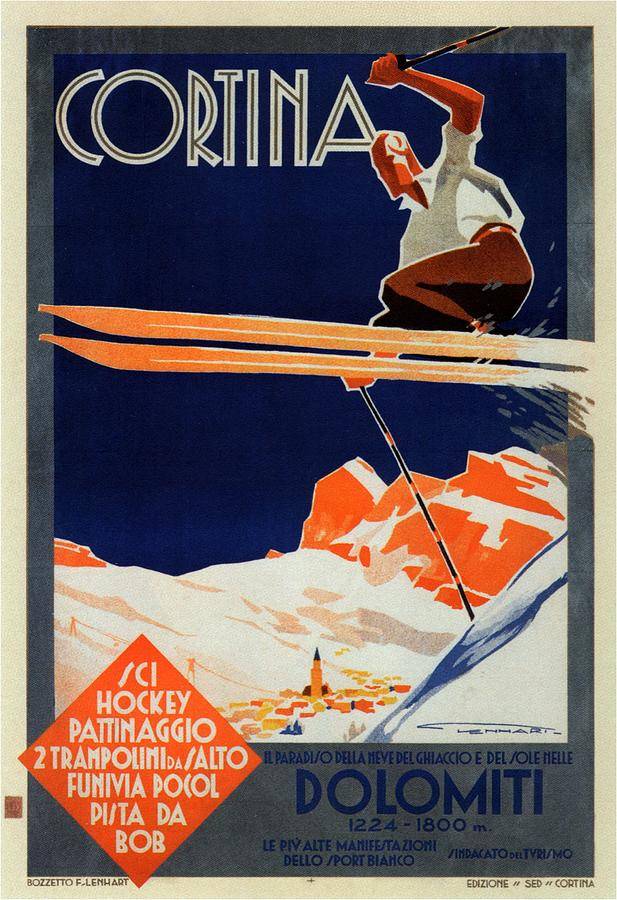 1950s poster advertising Cortina
Dubbed "Queen of the Dolomites", Cortina takes the cake for the most chi chi of Italian resorts. Frequented by well-heeled Romans and Milanese, the town is a retail and epicurean mecca, and is famed for its Prada-wearing ski instructors. This is a destination where you come to indulge in the town's offerings as much as the sport.
For those looking to pick up some new season (designer) ski gear, the main street, Corso Italia will certainly be of interest, with its numerous boutiques stocking some of the world's foremost powerhouse brands. A side effect of all this retail distraction is that the lift queues and slopes tend to be far less busy than other European resorts.
One of the Grand Dames of the hotel scene in Cortina is the Cristallo. Built in 1901 in the Art Nouveau style, it has long played host to the great and the good of the international jet set, including Brigitte Bardot, Peter Sellers and the Princes of Liechtenstein. In 1962, Frank Sinatra famously booked the entire hotel for the filming of Von Ryan's Express, which follows the trials of a gang of Second World War POWs attempting to escape from Italy into Switzerland. Today, of course, you won't have such struggles, but instead can stay in the Frank Sinatra suite, named in honour of its Silver Screen patron. We'd suggest drinking deep the rich vintages at the La Stube 1872 restaurant and raising a glass to the greats of Hollywood's Golden Age that probably imbibed right where you are sitting.
When all that skiing (and shopping) has got your appetite worked up, dinner at Ristorante Tivoli – the only Michelin star restaurant in town – is a must. Run by chef Graziano Prest, the menu showcases the best of Italian gastronomy, using local regional produce and fresh Adriatic seafood sourced from the nearby wet markets of Venice. If it's La Dolce Vita you seek, Cortina is a must.
---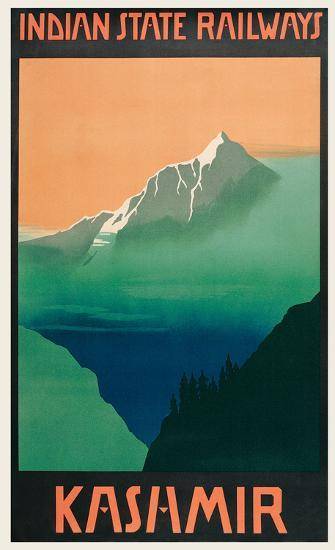 India might not be the first place that springs to mind as a winter ski destination, but the northern state of Kashmir has a spectacular snow-capped mountain range on its doorstep, in the form of the Himalayas.
The town of Gulmarg – meaning 'meadow of flowers' in old Sanskrit – is renowned for its wild blooms and owes its rather poetic name to 16th-century Sultan Yusuf Shah of the Chak Dynasty, who was the last native ruler of Kashmir and often frequented town with his wife, Queen Habba Khatoon.
In the days of the British Raj, the town became a hill station for British civil servants looking to escape the summer heat of north India and its cool, high-altitude climate provided a refuge. Gulmarg also happens to be the setting of the world's highest golf course at 8,690ft – a legacy of those putt-loving British colonists; so, if you get the urge to improve your handicap, you'll be right at home here. Although, there probably isn't much chance of getting even half a round in during winter, as the course will be under several metres of snow.
Even though there are only a limited selection of runs in Gulmarg, its selling point lies in its sense of serenity – the tranquil, undeveloped setting makes it the ideal retreat from the rat race of the modern world and a refreshing change from the bustle of the hectic slopes of Europe where dodging errant borders and toddler ski school groups are hazards you could frankly do without.
For some decent R&R, the Khyber Himalayan Resort & Spa should be top of the agenda. It sports a range of accommodation options, including rooms with postcard-worthy views of the Himalayan landscape and private estate cottages if you're looking for something a little more indulgent. Equally as varied are the dining options, with several in-house restaurants serving everything from traditional charcoal-grilled meats to mezze, dim sum and Kashmiri high tea. The indoor pool is also worth a visit – it's a pretty impressive feeling to get in your laps in the shadow of the highest mountain range on earth.
If it's adventure off the slopes you seek, a snowy, day-long trek to Alpather Lake is an experience that you won't forget in a hurry. The lake is nestled at the foot of the 4,511m twin Apharwat peaks and remains frozen until June when it thaws into a sparkling body of aquamarine water.
---
This legendary Swiss resort's origins as a playground for winter sports stem back to 1864, when the Caspar Badrutt, pioneering owner of the Palace Hotel, made a bet with some British guests that if they were to return to the town in winter and dislike their stay, he would cover all their travel costs. The four guests returned from England that winter and were enchanted by the snow-covered town. This was the catalyst that kick-started winter tourism across Europe and soon bobsledding, curling and skiing became established sports in St. Moritz. In fact, the town is home to the world's only remaining natural bobsleigh run; the 1.07-mile course is built every winter from natural snow and water. If you're a speed fiend, we'd say you'll definitely want to take a ride.
Given the debt all powder hounds owe him, it would only be polite to stay at the hotel originally owned by the pioneering Badrutt – now appropriately named 'Badrutt's Palace'. You won't want pampering here with private spa rooms on offer and the in-house King's Social Club – the smartest club in town – which has a menu curated by acclaimed British chef, Jason Atherton.
For the ultimate pre-dinner tipple, sipping a libation at the lobby bar of the wedding cake-like Kempinski Hotel des Bains, will make you feel like you've stepped into a remake of Wes Anderson's Grand Budapest Hotel. If you get peckish, the hotel's Ca'Doro restaurant serves the best Michelin-starred Mediterranean cuisine in St. Moritz, which will be a welcome change if you're feeling a bit weighed down by all that heavy Swiss fromage.
---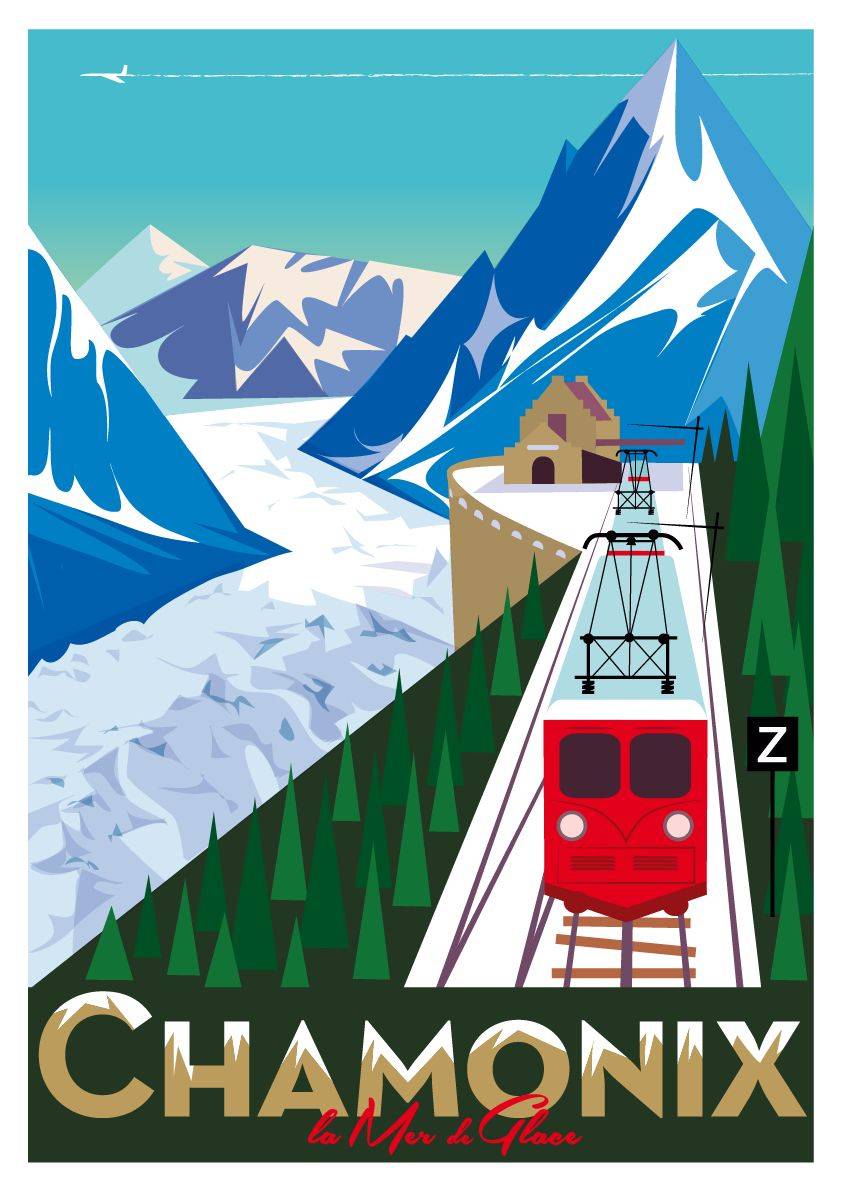 This long-established resort was host to the first Winter Olympics in 1924 and is renowned amongst daredevil skiers for its wide variety of challenging runs – and in particular, it's black slopes, which are steep enough to satisfy any budding Jean-Claude Killy.
If all that extreme downhill action gets a little too intense, there are plenty of other activities on offer to give your ski-legs a break, including husky sledding at Huskydalen, which is a pretty apt way to explore the surrounding winter wonderland landscape of Mont Blanc country.
The Hotel Mont Blanc – of course named after the premier peak – is a stellar choice to put up for the night. With a 100-year pedigree under its belt, it recently underwent a substantial refresh under the direction of French interior architect, Sybille de Margerie. This considered revamp has remained sympathetic to the hotel's original period charm, but has brought with it all the trappings of contemporary luxury, including an in-house Clarins spa to soothe those aching muscles after a hard day's skiing and a restaurant headed by culinary wizard Mickey Bourdillat, who offers a refreshingly international menu a world away from the usual ubiquitous raclette and fondue.
---