In the last decade, no item in a man's wardrobe has undergone as seismic a change as the humble hoodie. As menswear in general has shifted into a more casual gear, with suits at work replaced first by chinos, then jeans, the hoodie has transformed from an off-duty staple – something you wear to the gym into a luxury essential. Which is excellent news for any man who wants their wardrobe to be more playful, more personal and – most importantly of all – more comfortable.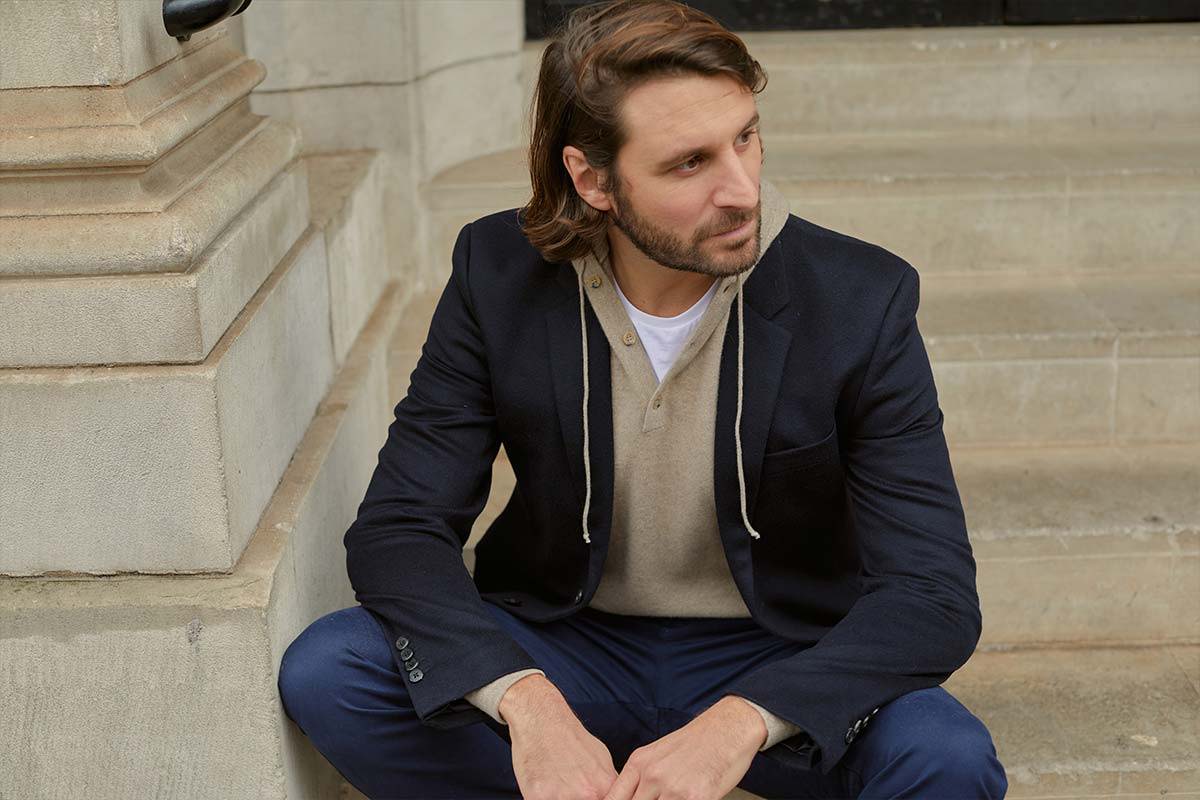 Luca Faloni Cashmere Hoodie in Camel Beige styled with a blazer
This new breed of hoodies is best exemplified, we think, by our own Luca Faloni cashmere hoodie. It does not have a gigantic logo across the chest. It's not weighed down with a kangaroo pocket. It is not the kind of thing that you might stuff in a gym bag, or slip on for DIY. It is sleek, fitted and cosy and would not look out of place at lunch at the Ivy (especially with a boxy blazer over the top). That's because this is a hoodie for a grown-up, rather than the kind designed for teenagers to wear when they want to hide from their parents.
---
The differences might seem subtle to the layman, but as with all things sartorial, it's the details that matter. The first is quality. Your traditional hoodie is made from jersey, which offers little in the way of texture or tactility. An adult hoodie is crafted – and that's the word you're looking for, crafted – somewhere like Italy, from something like 100% pure two-ply cashmere, from the prestigious Cariaggi Fine Yarns Collection. That's the kind of detail that stops people thinking that you're heading for a workout, and instead makes them want to stop you so they can feel just how soft the fabric feels.
This hooded sweater is knitted in Italy with 100% two ply pure cashmere from the prestigious Cariaggi Fine Yarns Collection.
---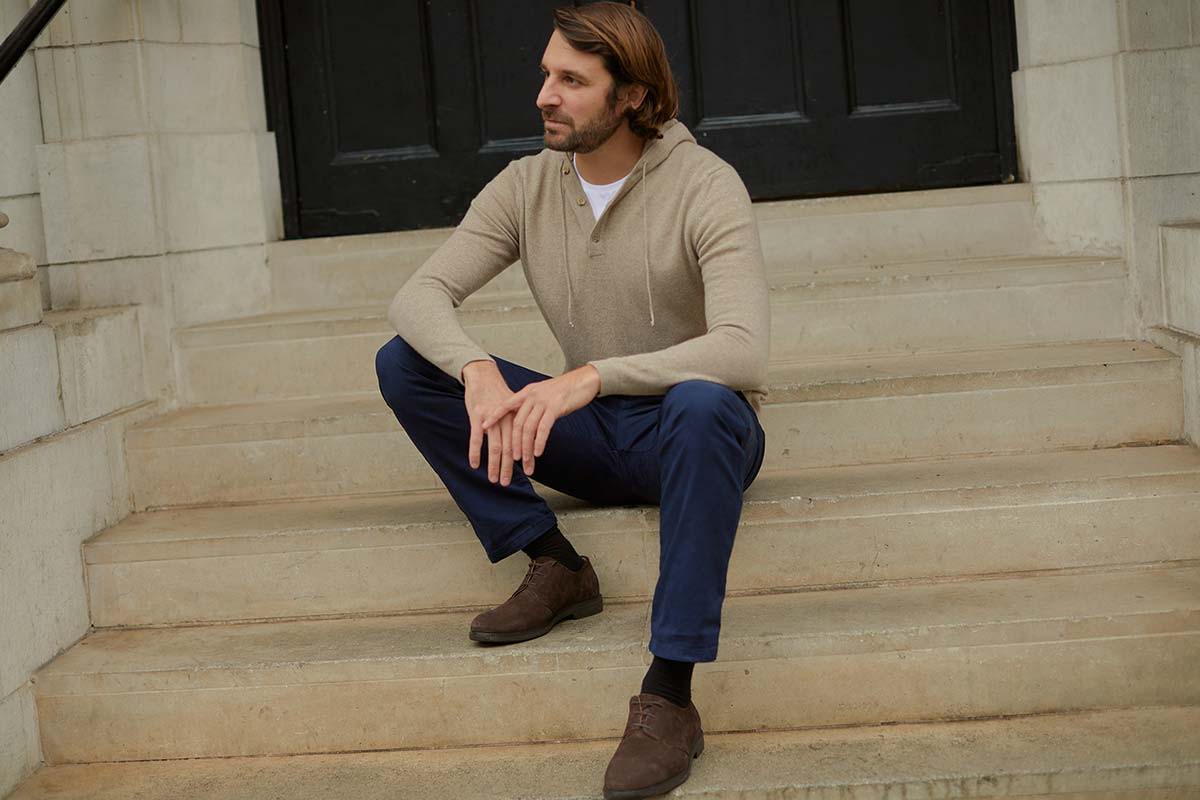 Luca Faloni Cashmere Hoodie in Camel Beige styled with our Cortina Winter Chinos
The second detail that makes a hoodie more adult is its shape. Your prototypical hoodie, which was originally intended to keep dock workers warm and quickly found favour with athletes for the same reason, is a boxy, loose-fitting garment, which is helpful if you're lugging crates off a ship or sprinting up the steps of the Philadelphia Museum of Art. But if you're trying to put together a nice smart-casual look, all that top-heaviness throws out your silhouette. Instead, look for something cut closer to the body, which will either echo the shape of your trousers if you keep things tailored, or create a nice balance if you prefer a looser, pleated shape.
---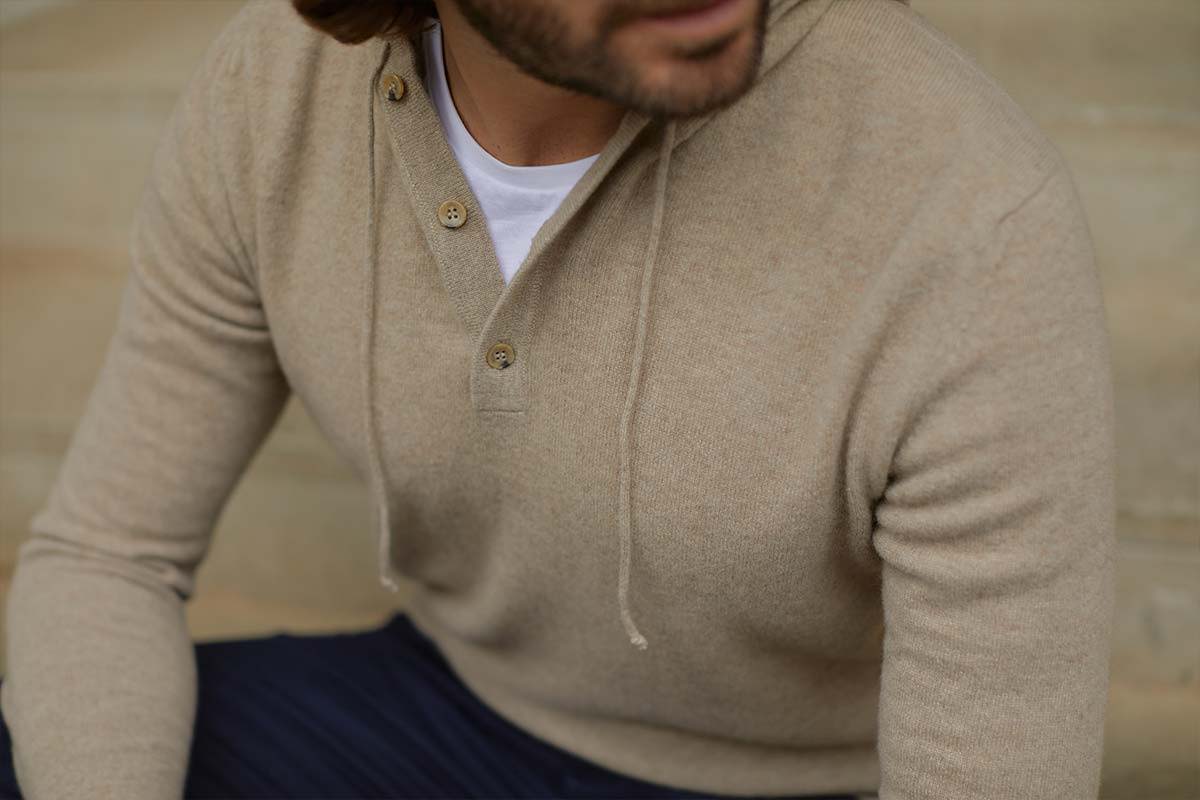 The third – and for our money, most important element in a grown-up hoodie – is its design. As with so much in style, less is much more. The explosion in streetwear that's dominated runway fashion for the last few years has produced a glut of logo-slathered, neon-hued hoodies covered in everything from velcro patches to deliberate holes to zips that don't do anything. Which is all well and good if you're an up-and-coming rapper, but less so if you don't spend your days posting selfies to Instagram. Instead, think refinement.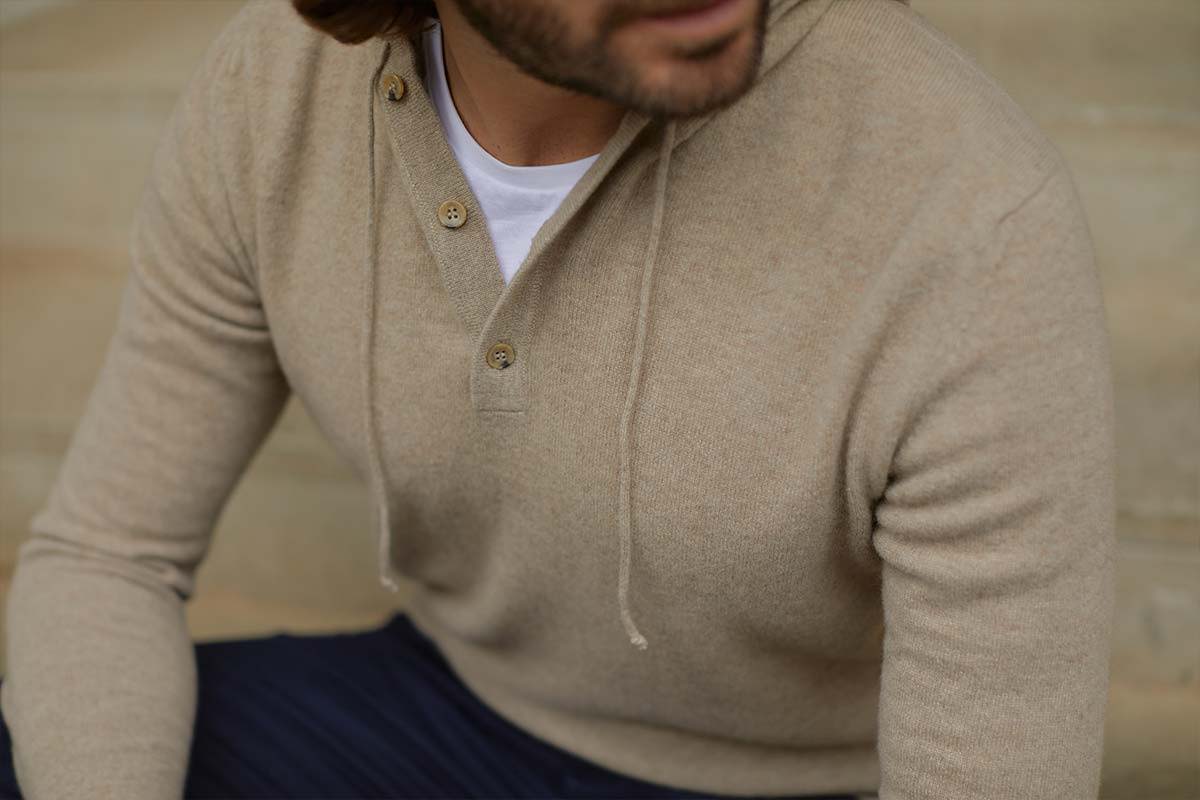 By replacing the basic zip design with premium Italian buttons, the hoodie has a more elegant and distinguished feel
---
The Luca Faloni hoodie, for example, swaps the central zip for premium Italian buttons, which gives the entire garment a more elegant and distinguished feel. The design has been streamlined removing bulky pockets and zip to ensure a fitted and flattering silhouette. It shifts it away from sportswear and closer to the cardigan, which in turn makes your hoodie more versatile. And that, really, is the key to wearing a hoodie like a grown-up. It should slot effortlessly into your wardrobe, and into your life, without making you look like you're trying to be someone you're not.
---